Photographs can be a very special window into the past. The pictures on the home page of the KinSource web site are photographs from my grandmother's photo album. These pictures were likely taken in the 1910's in Jackson county, Minnesota and Minneapolis, Minnesota.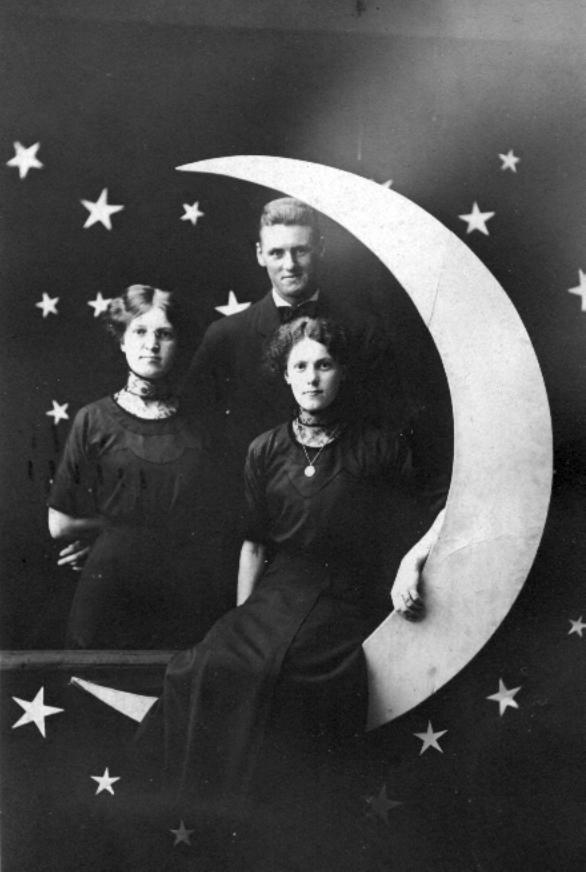 Sad to say, as with many old photographs, I have found no identification for the people in 4 of these photographs. They were likely friends or relatives of my grandmother.

I do, however, know the identity of the people in the bottom photo with the crescent moon, and I have been told the story behind it. The people are my grandmother's brother, Gilmore Husby, and his two cousins, Helen and Christine Leverson. Several years ago I had the opportunity to talk with Helen and Christine's youngest sister, and she told me that the picture was likely taken in Minneapolis in the 1910's. My grandmother's family moved from Jackson County to Minneapolis around 1912, and Helen and Christine Leverson also moved up to the big city in that time frame. Being young, single women in the city, Helen and Christine liked to go dancing, so their cousin Gilmore would escort them to the dances. This picture was likely taken by a professional photographer who made money by taking pictures at one of the dances that the three young people attended.

If you recognize any of the people in the other photographs, please contact me. I would love to know their identities.
© Copyright 2005 KinSource All Rights Reserved